On Twitter, Eric James Stone has started a meme about the missing first line of Glamour in Glass
with the hashtag #GlamourInGlass1stLines. I'll paste some of his in here, because they make me giggle.
He was born with a gift of glamour and a sense that the world was glass.
The glass is a foreign country; they do things glamourously there.
It was a pleasure to glamour.
He was an old man who fished alone in a skiff in the Glass Stream and he had gone 84 days now without taking a fish.
It was a bright cold day in April, and the glasses were strikingly glamourous.
Glamourous families are all alike; every unglamourous family is unglamourous in its own way.
It is a truth universally acknowledged, that a single man in possession of a good glass, must be in want of glamour.
The sky above the port was the color of glass tuned to a dead glamour.
It was a glassy and glamourous night.
Call me glamourous.
It was the best in glass; it was the worst in glass.
Now it's your turn. What are some of the first lines that my novel could have had?
Yesterday at Norwescon was a good day. A really good day. They made the announcements of the list of Hugo nominees.
I found out two weeks ago that my novella, "Kiss Me Twice" had been nominated in the Novella category, and that Writing Excuses with Brandon Sanderson, Dan Wells, Howard Tayler, me, and Jordan Sanderson had been nominated in Best Related work. Go team!
BUT I had to hold that news for weeks. Yesterday meant that I could finally tell people but it also meant that I got to find out who else was nominated.
And yay!
The ballot has so many people I know on it.  I got to hang out with newly-minted Campbell nominee Stina Leicht and reflect in her glow.
I was sitting next to John Picacio when his nomination was announced for Best Professional Artist. Later, I saw Betsy Wollheim who was nominated for Best Editor Long Form for the first time in a thirty-seven year career. I got to drink scotch with Spring Schoenhuth, nominated for Best Fan Artist — the first time a jeweler has been nominated.
Sharing in the sheer giddiness with these folks just makes it even better.
And look! My editor, Liz Gorinsky, is also on the Best Editor Long Form list.
And then the friends. So many people I know, this year. Jo Walton, Seanan McGuire (FOUR times), China Miéville, Kij Johnson, Ken Liu (TWICE), Catherynne M. Valente (THRICE!), Paul Cornell (TWICE), Rachel Swirsky, Brad R. Torgersen (TWICE), Charlie Jane Anders, E. Lily Yu (TWICE), Nancy Fulda, John Scalzi, Jeff VanderMeer, Howard Tayler,  Christopher J Garcia, Lynne M. Thomas, John Joseph Adams, Liza Groen Trombi, David G. Hartwell, Kris Dikeman, John DeNardo (TWICE), Jonathan Strahan (TWICE), Elizabeth Bear, Lou Anders, Patrick Nielsen Hayden, Neil Clarke, Sheila Williams, Jim C. Hines (with the best reaction post ever), Steven H Silver, and Mur Lafferty.
Oh, heck, just look at the full list. It is full of awesome.
And here's the really cool thing. WorldCon will send you the fiction on that list to read for awards consideration. All you have to do is sign up for the convention and you get a GIANT packet of material with novels and comics and everything. SO cool.
Even if you can't attend, you can pick up a supporting membership for $50 which would cover the cost of two of the nominated novels in hardcover.  See? I told you it was cool.
I'm heading over to Norwescon and carrying a copy of Glamour in Glass with me. Later today, I'll be giving it away… Want it?
10 am Salon – How to Give an Effective Reading
The workshop is specifically designed for authors who need to do readings at conventions, book-signings or other events. Just because you can write brilliantly does not necessarily mean you can read aloud brilliantly. Learn how to use voice acting techniques for greater impact in readings. Mary Robinette Kowal
1 pm Cascade 7 – Writing as a Business or an Art
Why do you write, and what do you want to get from a career in writing? If you had to choose, would you rather win a Hugo or write a bestseller? Let's talk about our writing goals and how your goals may affect what you write and how you market. Eileen Gunn (M), Keffy R. M. Kehrli, Mike Shepherd Moscoe, Mary Robinette Kowal
2-4 pm Cascade 12 – Figure Drawing Workshop – Models in Costume
Models in costume will do a variety of short and medium length poses (3 to 10 minutes). Everyone is welcome to come and sketch or paint. Please bring your own drawing and painting supplies. An excellent follow-up panel to the Figure Drawing Workshop. Anita Taylor (M), G.Robin Smith, Victoria Shaffer, Mary Robinette Kowal (I'm modeling in Regency dress)
4:30 pm Cascade 1 Mary Robinette Kowal reads Glamour in Glass
A historical fantasy set in the days leading up to Waterloo. Rated G Plus a tiny little puppet show!
I'm heading to the dentist for the second of three appointments to fix the tooth I broke last month. Why? Because the only way you can make a two-hour dental appointment worse is by scheduling it at 7am on the morning you are going to a convention.
Speaking of which, look for me at Norwescon this weekend.
Edited to add: In fact, you can make a 7am dental appointment worse by actually scheduling it at 8:30, and writing it down wrong.
Around Europe, various towns have their own special regional festival. One of the best known is that of the town of Binché, where much of the action of Glamour in Glass
takes place. In fact, it's one of the reasons that I picked Binché as a scenic location.
They have a multiple day festival on the days leading up to Ash Wednesday.  The piece that caught my attention was the Gilles parade. You might have noticed that I fit a historic shadow puppet show into Shades of Milk and Honey  by turning it into a glamour performance.
In Glamour in Glass, I took the traditional Gilles festival and added a version of parade puppets, made with glamour.
The normally quiet village was filled with people walking toward the centre of town. Banners hung from windows in brilliant reds and yellows, with occasional tricolours marking a supporter of the Bonapartes.

As they neared the centre of town, Jane began to hear music of a jolly bouncing sort. They rounded a corner and the cross street at the end was lined with people, all staring to their right. Anne- Marie caught hold of Jane's hand and pulled her through the crowd to the front row.

Marching toward them came row upon row of men dressed in nearly identical costumes, bright yellow shirts and pantaloons, striped with red and green. Each man had an enormous collar of lace, and a padded hump and belly. They all wore wax masks with spectacles and curling moustaches.

Most remarkable though, were the dragons that hung in the air above them. The dragons themselves were simple folk constructions, rendered with broad strokes of glamour. What astonished Jane was that the dragons travelled with the parade of men.

She let her vision dissolve into the ether, focusing first on the Gilles, in an attempt to understand how they were managing the folds while marching. Upon examination, she traced the threads governing the dragons to the women who lined the street. They passed the folds one to the next, so that no woman had to maintain the folds for more than a minute or so.
You can go to Binché today and enjoy their festival, but don't look for the dragons. I made those up.
During the Month of Letters Challenge, people could write to Jane from Shades of Milk and Honey and she would write back, using an actual quill on a 19th century writing desk. Jane was writing these in "real time" for her, which means that it was the corresponding date in 1815 and takes place during the events of Glamour in Glass
. It was a fun challenge to figure out what Jane was doing on a given day. I had plot events on a calendar, so I knew which chapter happened on which day, but there was space in between those. Most of the letters wound up falling on a non-plot day.
One of the correspondents has given permission to post the letters and I thought you'd be interested to see what some looked like.
I have an article in today's Tor/Forge newsletter about the use of historical language in fiction. And I've already annoyed one reader — go me! — who thinks that the way I paid attention to the language is "the writer playing head games with him/herself."
Which I have to say is true. And it's not a game that everyone needs to play. I find it useful and fun though.
The goal, with any novel, is to keep the reader engaged in the story. Beyond writing a story that is compelling in the first place, you also have to avoid doing anything that will throw them out of the story. For a novel like Glamour in Glass, which is set in 1815, one of the additional challenges is the use of language. It is very easy to use the wrong word and make a reader pull to a complete halt.
via Historical Language Can Be Electrifying « Tor/Forge's Blog.
For anyone who didn't click on the last link in my apology about being my brother, it went to the wikipedia entry on April Fool's day.
Personally, I very much enjoy being taken in by a good prank, because for a moment I get to live in this crazy alternate reality where cool things happen.  My favorite ones are the slow, dawning awareness ones.
Like Diana Rowland's happy news that her book My Life as White Trash Zombie was going to be adapted as a musical by Andrew Lloyd Webber. With a cast that included Hugh Jackman. Who wouldn't want to live in the world where she got to attend table readings with Mr. Jackman?
It's like fiction stepping out of the pages of a book and into our lives, just for a little while.
But… given that I caught more people that I expected to with my joke this year, I thought I would post my rules for what makes a good prank.
1. It doesn't scare anyone.
2. It doesn't raise false hopes.
3. It doesn't hurt.
4. You have to fess up.
An example of #1 that someone I know actually pulled. He faked his own death so that his girlfriend would come in to find him. That is seriously, seriously twisted. Not funny. Not even a little funny.
#2. Calling someone to tell them their novel was going to be published. That would be evil.
#3. Hand buzzers and Kick Me signs. Physical and emotional pain are right out.
#4. Oh come on… if I let you believe that I was really my brother and you told other people, that would just be mean.
What was your favorite prank this year?
Last month when doing Month of Letters, I learned the meaning of unintended consequences. I did not expect my challenge to go viral and certainly not to be picked up by the Guardian.  I also did not expect people to think "'Mary' is part of a USPS marketing campaign experimenting with viral marketing."
While I was not, and the Challenge was genuine, a reporter digging into that question uncovered some facts about me that are going public soon, and I'd rather you hear them from me. I've spent the past month explaining things to my agent and editor.
Mary Robinette Kowal is a pen name.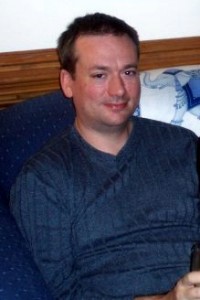 My actual name is Stephen Harrison. I teach history at Vanderbilt and am getting my PhD, and yes, I am a man. The woman that you have met at some conventions is my sister. I hired her to be "Mary the writer."
So the question you are probably wonder is why? Why would I go to such extremes rather than simply using my own name, or gender, or having an open pseudonym? The gender question is the easiest to answer. As a writer of Regency Romances, it became clear that I would never sell a novel as a man.  There is too much industry prejudice against men in Romance. In fact, the taking of a female pseudonym is very common practice.
I tried for years to sell Shades of Milk and Honey under my own name. One rejection letter actually said, "No one buys romance by men." Faced with that blatant discrimination, in a moment of frustration, I slapped my sister's name on the manuscript and threw it into the mail. I can not describe the level of relief and frustration I felt when it sold immediately. On the one hand, my novel had sold! On the other, it was such a clear sign of discrimination against men.
My sister had been hearing about my flagging writing career for years and when I told her what had happened, she said, "Use it. You can even blog as me."
She has been amazingly supportive. I can't thank her enough for the gift she's given me of a writing career. But I want to be clear that this was all in reaction to the pervasive prejudices against men. I was terrified that if I outed myself, people would stop buying my books. Romance? Written by a man? Feh. And yet, everything in the industry said that you had to have a physical presence at conventions to sell books. No one sells books without making that personal connection with fans.
I can't tell you how fortunate I am that Mary was willing to attend conventions for me.  Her career as professional puppeteer was also a clever nod to the truth. She was not just a professional puppeteer, she was a professional puppet.
Neither of us intended for this to become so complicated and I can only apologize for the trust I have betrayed in my fans. I should have been up front sooner.
But I also hope that this serves as a wake up call for the industry and that it will stop its prejudicial practices against men. We have something to say about romance, too.
Edited to add: Since it is no longer April Fool's Day, it only seems fair to tell you that this was a prank. Steve really is my brother, but the only writing he's doing is on his dissertation.